UK Based Arts Organisation, Lion and Lilac will treat lovers of poetry to a National Poetry Day Event in line with this year's theme of "The Environment".
The event will feature both established and emerging voices on the African and United Kingdom's literary scene.
Among the headliners is Jide Badmus, who is the author of There is a Storm in my Head; Scripture; Paper Planes in the Rain; Paradox of Little Fires; Silk Psalms; Anatomy of the Sun (and everything beneath); Lust Alphabets; and Obaluaye (FlowerSong Press, 2022). He was nominated for a Pushcart Prize in 2021. Badmus has curated/edited anthologies such as Vowels Under Duress; Coffee; Today, I Choose Joy; and How to Fall in Love.
He is the founder of INKspiredNG, the Poetry Editor for Con-scio Magazine, and sits on the board of advisors for Libretto Magazine.
Also headlining a set is Christtie Jay, the author of At War with Love, Christtie Jay is a Nigerian lawyer, writer and spoken word artist, who is passionate about language- its prowess, and possible use to compel and facilitate dialogue and social change.
She is published in journals like Trampset, Rumpus, A Long House, Glass: A Journal of Poetry, Kissing Dynamite, Eastern IOWA Review, amongst others and her works have won and been longlisted for poetry prizes from the Lagos poetry festival and the I'll show you mine, show me yours poetry prizes.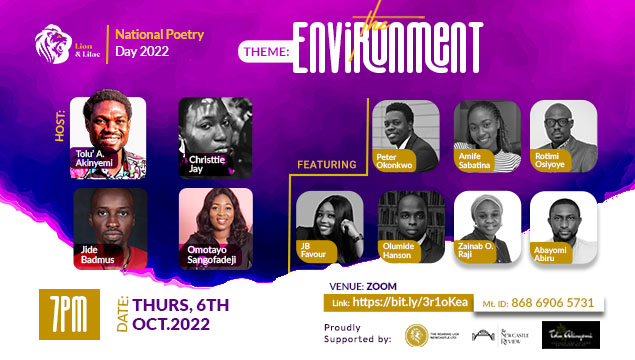 To complete our set of headliners is the co-founder of Lion and Lilac, Omotayo Sangofadeji, a financial consultant by day and a writer all the time. She has worked as a content creator for Tru Star Magazine. Her short stories have been published in several online publications including The Naked Convos and Stories.Ng.
Former headliner at the 13th Redefest Community Music Festival, she has also performed at several book reading events and Open Mic shows in North-East England.
As a passionate gender equality advocate, she is the founder of Fight Against Rape, a Non-Profit Organisation that works to enlighten on consent, and help survivors of gender-based violence in Nigeria.
Other featured poets at this year's event are Peter Okonkwo, Amife Sabatina, Rotimi Osiyoye, JB Favour, Olumide Hanson, Zainab O. Raji and Abayomi Abiru.
Multiple Award-Winning Author and Co-Founder of Lion and Lilac, Tolu' A. Akinyemi will host the event.
The event promises to be eclectic with a mix of voices that will grace the night and shows Lion and Lilac's commitment to promote arts and culture, especially within the under-represented Black, Asian and Minority Ethnic group in the United Kingdom.